Model: Sentiero // Advanced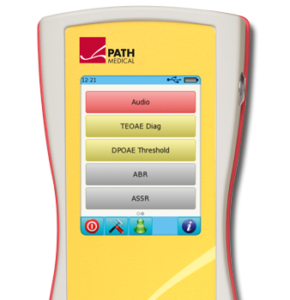 Key Features:
Multiple tests in one unit (ABR, ASSR, OAE, air & bone & speech audiometry, Tympanometry)
Multichannel FMDPOAE®
Patented cochlear audiogram & scissor paradigm: varies the intensity difference between the two stimuli to maximize response amplitude!
Customizable protocols for each module. E.g. DPOAE protocols between 800 Hz – 10 kHz with up to 30 points per octave allow you to get as much interoctave information as needed
Technical Specifications:
Device dimensions: 209 x 98 x 52 mm, ca. 500 g, Display: 240 x 320 pixel; graphic LCD 3.5", resistive touch screen, real time-clock, piezo-electric sound generator, USB, Output voltage and nominal impedance (headphone socket): 5 Vpp, 32 Ω Power consumption: max. 2 W.
Memory capacity: up to 1000 patients, ca. 1000 tests (dependent on test type).Results can be sorted by birthdate, name, patient ID, examiner, date and time.